Link Baiting - An Effective Link Building Strategy
Link Baiting
is the basic tact which is used by bloggers but it is rarely used by the many of the websites. Today I am going to explain what link baiting is and how everyone, not just bloggers, can use it to build quality links.
This is a topic that's been around for a while but I don't think a lot of people know what it is, or how to use it to their advantage.

However link baiting is one of the link building strategies rather than hunting out links, you are bringing the links to you through unique, resourceful and popular site content.
Link baiting - bait for links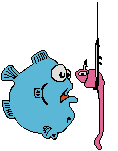 Link Baiting process just like fishing. You publish a new article or page on any topic and share it on web. Others read your content and smell its freshness and if it is interesting and helpful for industry then they link to it. Your article acts as bait and link act as catch for it.

If you have created a proper page then it may capture huge links with least or no effort by you.

For example, Smashingmagazine.com wrote an article about 80+ AJAX solutions for professional coders which was really helpful for the industry which get huge numbers of natural links you can check it here. Article has earned 11,700 links to date which is really big achievement without an effort.

Link Bait is process of gaining links naturally. If your article is really good then there is no matter for worrying about links. The huge links fall on your article and you will find many of them with your anchor text or your article title. And if you are gaining links with your article title as anchor text then your article will naturally come in top listings of search engines without your effort.





With link building there are essentially 5 types of "hooks" or pages built to encourage links. They are: News, Contrary, Attack, Resource and Humor.
Labels: Link Building
posted by Prashant Vikram Singh @ 8:42 AM,

1 Comments:
At March 29, 2011 at 3:11 AM, Manish Singh said...

Article is really good then there is no matter for worrying about links.


SEO Experts Delhi
Previous Posts